Piano lessons enhance the life of every child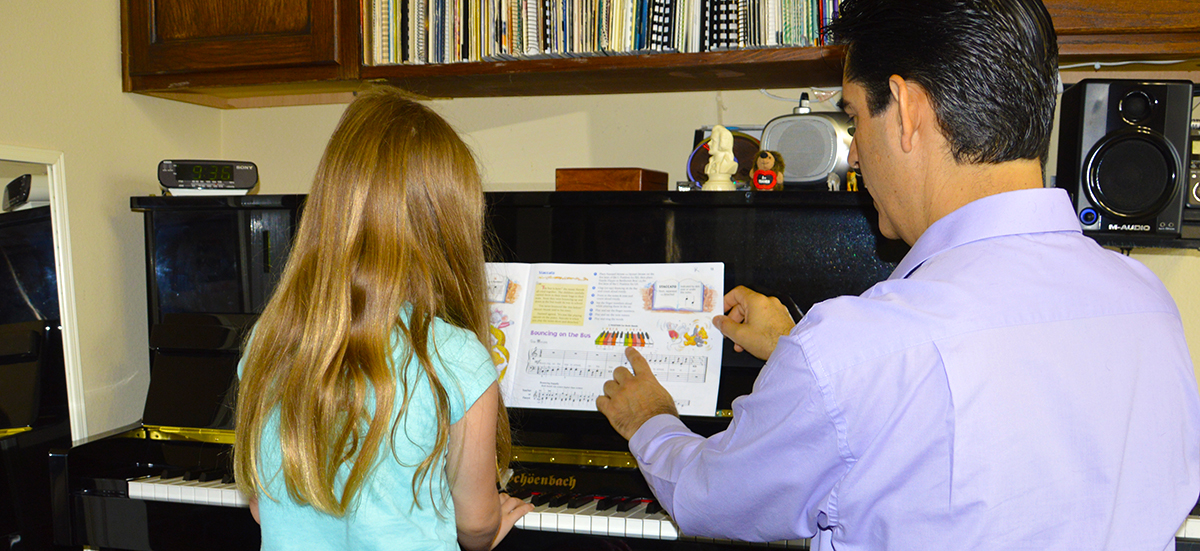 Every child comes to our world with musical ability. As a piano teacher, it's my duty to foster and inspire this natural capacity. I strive to bring out the innate musicality in each and every student. Whether starting out for the first time at age four or sixty-five, or returning after many years away from the piano, I am dedicated to providing piano lessons tailored to the student's needs and goals. Through individual piano lessons, I encourage my students to learn and help them enjoy the process of making music with their instruments.

Piano lessons can enhance the life of every child as they gain confidence, social skills, and academic expertise along with their new musical abilities. In high school math, I learned to calculate the distance to the moon. Although I don't use that skill anymore, I still use the critical thinking and problem solving skills that developed as a result.

I teach piano lessons for very similar reasons. My objective is not necessarily to produce concert pianists, but people who enjoy playing the piano, set and achieve goals, solve problems, and work with others (parents and peers). I encourage students to share their music with everyone around them, feeling that playing for others can be a wonderful service for the community.
Piano lessons are designed to meet specific needs of each student. Some students just want to play the piano for fun while others are interested in a more structured approach. Depending on the student's goals the lessons might include theory, ear training, technique, and practice advice in addition to performance preparation.
Specialties: Suzuki Piano, MusicTime, & praiseTime
The Suzuki method is a way of teaching music to young children based on the same principles used when learning language—listening, imitating and repeating. Dr. Shinichi Suzuki developed a teaching method that focuses on ear-training, production of a beautiful tone and good instrumental technique. Suzuki teachers develop the students motor coordination and train the ear before the eye: students are first taught basic listening and playing skills before note reading is introduced, in the same way children learn to speak and comprehend before they learn to read. Parental involvement (parent responsibility, loving encouragement, and constant repetition) in the lesson is essential to the success of the Suzuki learning method.

MusicTime is my own approach to teaching students to play the piano without music notation. This hands-on training makes it possible to learn a variety of songs in a short period of time. It's great for teenagers who want a fun (and 'cool') way to learn piano or keyboards and even be able to play in a band or in school. Students get excited when they realize that they can make beautiful music on the piano and are eager to show their progress to family and friends. The songs cover a variety of musical styles: pop, classic rock, jazz, blues, country, Latin, and even classical themes.

The praiseTime curriculum prepares students to play chord charts on the keyboard, different style accompaniments, improvisation and transposition, all within a sacred repertoire of contemporary praise songs and traditional hymns. Students might be able to join a praise band at church and play along with guitar, bass, and drum players and singers.
I primarily teach beginning and intermediate piano lessons, but can also teach guitar, clarinet, and saxophone. A student may learn one or more instruments simultaneously.
Practice is the most important part of learning the piano. As a teacher I can only teach my students to be good musicians and motivate them to reach their full potential. But daily scheduled practice is necessary to acquire the basic skills and to improve their playing. I know that at times practicing may seem tedious and frustrating, but the rewards we gain as being musicians is worth the time spent learning.

Beginning students may start out on a digital piano or similar keyboard with fully weighted keys, but it is advised that students acquire an acoustic piano as soon as possible. Students seeking classical instruction must own an acoustic piano.
Performance Opportunities
Students will be encouraged to participate in events designed to further their musical experience, such as recitals, competitions, festivals, and Church services.
The fixed monthly tuition bill is based on 46 piano lessons per year and is due on the 7th of each month. Student must pay for at least 8 lessons during the summer months (June 1 - August 31) in order to guarantee current lesson time for the next academic year and avoid a new registration fee. Tuition rate for the summer months could be either the same monthly fee or the prorated per lesson fee. Please call 210-560-9587 for tuition rate information.
To cancel a lesson a minimum of 24-hour advance notification is required. Make up lessons will be given on teacher's availability or during the summer (up to 3). No tuition credit for missed lessons will be given.
If you have any questions, please call Mr. Aguilar at 210-560-9587 or write a message here. For more information about the teacher, click here.